If you suspect that you have varicose veins or a vein specialist has confirmed the diagnosis already, the next steps are crucial for your vein and overall health. For some people, varicose veins never progress past their current state. However, others may find the symptoms become increasingly worse. Worse yet, they could indicate a more serious underlying condition. Seeking non-surgical treatment of varicose veins is sometimes your best option.
At-home care for varicose veins
At a minimum, there are things you can start doing right away to reduce the symptoms and possibly keep your varicose veins from getting worse. These at-home care practices include:
Wearing compression stockings to reduce swelling and aid blood flow, helping slow down their development.
Exercising more regularly. Swimming, walking and, running are particularly effective.
Cutting down on foods high in fat and sugar.
When to see a specialist about non-surgical treatment of varicose veins
If you are experiencing symptoms like itching, swelling, and tired, achy legs, it is time to seek treatment with a vein specialist. These days, there are non-invasive treatment options available that do not require extensive surgery–as long as the condition is caught in time. These options are virtually pain-free, with no downtime, so you can pick up right where you left off with your life.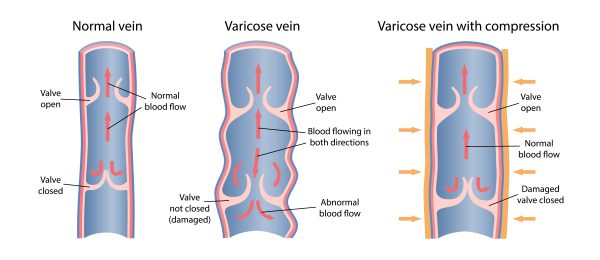 The benefits of non-surgical treatment for varicose veins are many, and include:
Fast recovery
98% success rate
Extremely effective
No hospitalization
No general anesthetic
Medicare rebates apply
No downtime or time away from work
The vein specialists at Grand Junction Vein Center can help determine if you are a good candidate for non-surgical treatment of varicose veins. Contact us today to schedule your consultation.